RV LV16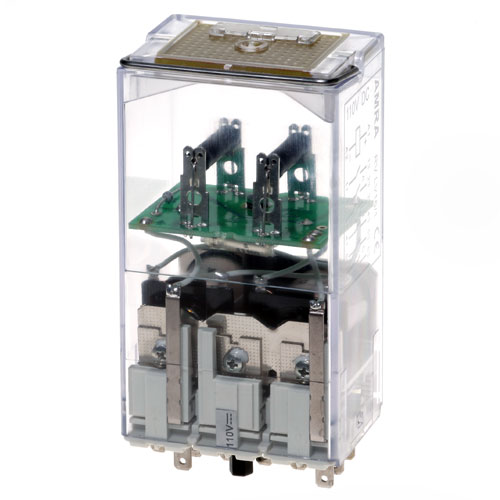 Specifications
Monostable plug-in trip relays, fast acting, with 6 contacts, 5 A
4 models for various contact configurations
Switching time < 6ms, bounces included
Solid and rugged construction for intensive duty, exceptional endurance
Magnetic arc blow-out as standard
Transparent cover, pull-out handle
Wide range of sockets
Retaining clip for secure locking of relay on socket
Positive mechanical keying for relay and socket
Description
RV series trip relays are designed and built using materials and solutions that impart excellent characteristics of long-life and ruggedness; suitable for use in harsh operating environments.
The typical application is
for interfaces between protections or automation systems and HV / MV breakers, for alarm transmission and very rapid trip operations.
multiplication of trip contacts in minimal time intervals
4 models: 6 contacts available in 4 configurations (6NO, 4NO+2NC, 3NO+3NC, 2NO+4NC).
Switching time < 6ms, bounces included,
Equipped with magnetic arc blow-out, these relays guarantee exceptional efficiency in breaking DC loads. The common contact is mounted to a separate return device comprising a flexible blade designed to ensure uniformity of the pressure exerted on the break contacts.
High immunity to the electromagnetic interference typical of high voltage electricity distribution stations.
The excellent electrical and mechanical performance of these relays allows them to be used in the most demanding sectors, such as control and signalling functions in electricity generating stations, electrical transformer stations, rail transport, or in industries with continuous production processes (chemical industry, petroleum industry, rolling mills, cement works, etc.)
Compliance with standards
EN 61810-1, EN 61810-2, EN 61810-7 Electromechanical elementary relays
EN 60695-2-10 Fire hazard testing
EN 50082-2 Electromagnetic compatibility
EN 60529 Degrees of protection provided by enclosures
LV15/LV16 ENEL / TERNA approved
Choose your Relay
close