CLE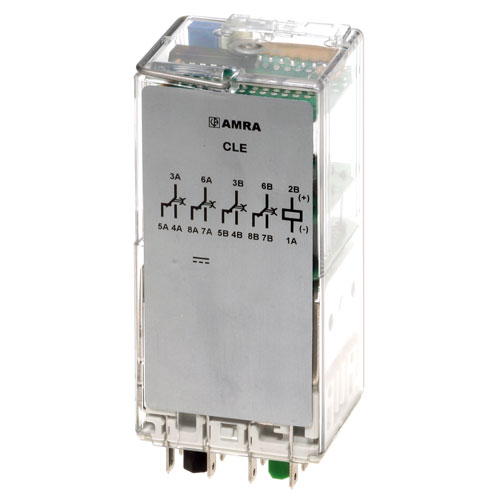 Specifications
Plug-in relays, with cyclic symmetrical flasher function
4 timer contacts, 5 A
Fixed flash from 55 to 90 pulses/min
Excellent shock and vibration resistance
Wide variety of configurations and customizations
Wide range of sockets
Transparent cover, pull-out handle
Retaining clip for secure locking of relay on socket
Positive mechanical keying for relay and socket
Description
CLE series plug-in relays, created on the POK platform, are designed and built with materials and solutions that impart excellent characteristics of endurance and ruggedness; suitable for use in harsh operating environments subject to severe thermal shocks.
Cyclic symmetrical flasher function, fixed flash from 55 to 90 pulses/min.
Equipped with magnetic arc blow-out, these relays guarantee exceptional efficiency in breaking DC loads. The common contact is mounted to a separate return device comprising a flexible blade designed to ensure uniformity of the pressure exerted on the break contacts.
The excellent electrical and mechanical performance of these relays allows them to be used in the most demanding sectors, such as control and signalling functions in electricity generating stations, electrical transformer stations, rail transport, or in industries with continuous production processes.
Exceptional shock and vibration resistance, ideal for use on rolling stock. High immunity to the electromagnetic interference typical of high voltage electricity distribution stations.
Compliance with standards
EN 61810-1, EN 61810-2, EN 61810-7 Electromechanical elementary relays
EN 61812-1 Time relays
EN 60695-2-10 Fire hazard testing
EN 50082-2, EN 61000-4 Electromagnetic compatibility
EN 60529 Degrees of protection provided by enclosures
EN 60077 Electric equipment for rolling stock - General service conditions and general rules
EN 50155 Electronic equipment used on rolling stock
EN 61373 Shock and vibration tests, Category 1, Class B
EN 45545-2 Requirements for fire behaviour of materials and components – Product No. EL10 – Requirement R26, V0
ASTM E162, E662 Standard Test Method for Surface Flammability of Materials, Standard Test Method for Specific Optical Density of Smoke
LV15/LV16 ENEL / TERNA approved
Choose your Relay
close