OKPH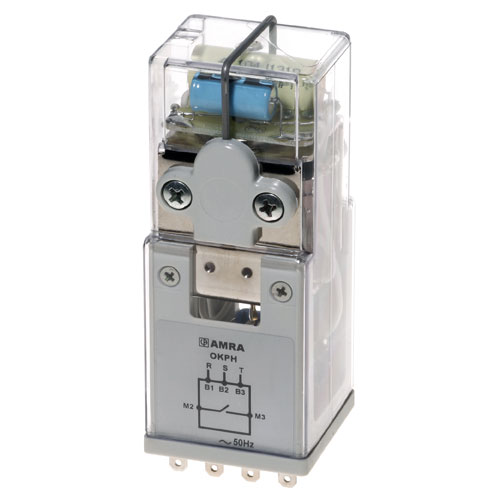 Specifications
Plug-in relay for monitoring the directional sequence of 3-phase voltages
1 N.O. contact
Fixed hysteresis cycle
Industrial frequency AC operation
Solid and rugged construction
Excellent shock and vibration resistance
Wide range of sockets
Retaining clip for secure locking of relay on socket
Positive mechanical keying for relay and socket
Description
Relays of the OKPh series are supervision devices for monitoring the directional sequence of phases or detecting the loss of one or more voltages in three phase systems. These components are typically used for detecting faults affecting either a power supply or the sequences of individual phases. The supervision relay can identify undervoltages on one of the 3 phases below a fixed threshold, or detect a phase break: this advantageously prevents the risk of three phase motors operating in single phase mode. In addition, monitoring of the correct R-S-T sequence enables permanent supervision of the status of power supplies to three-phase users, and the avoidance of dangerous incorrect connections. These relays are connected directly to the 400Vac three-phase power line. When the system under supervision is operating correctly, the relay contact remains closed.
The OKPh relay detects the direction of rotation using high quality passive electronic components (R and C) which, in combination with the superior reliability of the electromechanical section, allow these relays to perform key roles in the systems in which they are installed.
The ultra-high reliability and long electrical life expectancy of these components allow them to be used in particularly demanding environments such as, for example, electricity generating stations, electrical transformer stations, and industries using continuous production processes.
Compliance with standards
EN 61810-1, EN 61810-2, EN 61810-7 Electromechanical elementary relays
EN 60695-2-10 Fire hazard testing
EN 50082-2 Electromagnetic compatibility
EN 60529 Degrees of protection provided by enclosures
EN 60077 Electric equipment for rolling stock - General service conditions and general rules
EN 50155 Electronic equipment used on rolling stock
EN 61373 Shock and vibration tests, Category 1, Class B
EN 45545-2 Requirements for fire behaviour of materials and components – Product No. EL10 – Requirement R26, V0
ASTM E162, E662 Standard Test Method for Surface Flammability of Materials, Standard Test Method for Specific Optical Density of Smoke
Choose your Relay
close