UTMR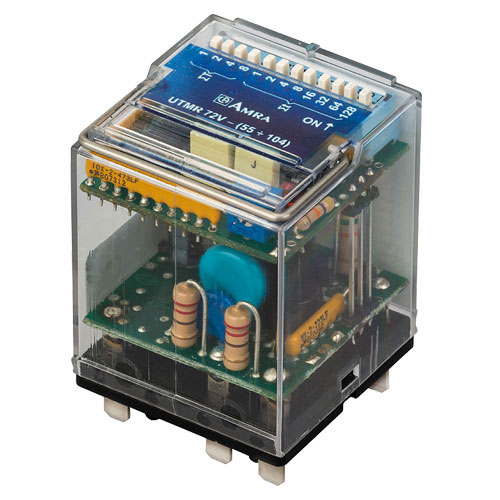 Specifications
Static timer unit
Time delay on drop-out
2 outputs available: timed output and instantaneous output
Time setting from 0.1s to more than 9 hours by means of dip switches
High immunity to electromagnetic interference
Excellent shock and vibration resistance
Wide range of sockets
Transparent cover, pull-out handle
Retaining clip for secure locking of relay on socket
Positive mechanical keying for relay and socket
Description
The UTM unit is a static timer module, designed for applications requiring a time delay activated on pick-up (UTME) or on drop-out (UTMR). This units can be used to drive an external instantaneous relay that requires a time delay. There are 2 outputs available: one timed and the other instantaneous, with maximum rated power 6W.
The UTM unit offers high reliability, thanks to the use of an electronic circuit requiring a small number of components, and to the selection of professional grade products.
Time-delay on drop-out, switching time selectable from 0.1s to more than 9 hours, with extreme precision over the entire scale and high resolution. Two dip switch selectors for user adjustments.
The electronic circuit features high immunity to the electromagnetic interference typically associated with high voltage electricity distribution stations. The construction of the module and careful choice of materials are such that they ensure long life and considerable ruggedness, even in harsh operating environments and when subject to strong thermal shocks.
Compliance with standards
EN 61812-1 Time relays
EN 60695-2-10 Fire hazard testing
EN 50082-2 Electromagnetic compatibility
EN 60529 Degrees of protection provided by enclosures
EN 60077 Electric equipment for rolling stock - General service conditions and general rules
EN 50155 Electronic equipment used on rolling stock
EN 61373 Shock and vibration tests, Category 1, Class B
EN 45545-2 Requirements for fire behaviour of materials and components – Product No. EL10 – Requirement R26, V0
ASTM E162, E662 Standard Test Method for Surface Flammability of Materials, Standard Test Method for Specific Optical Density of Smoke
Choose your Relay
close