RMTZ05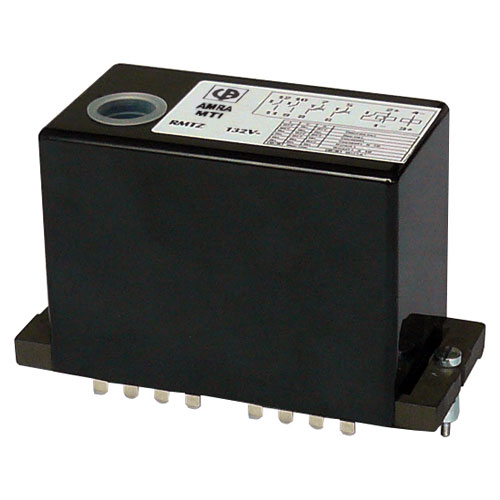 Specifications
T1 all-or-nothing specified time monostable relay
Compliant with RFI P/N 794/671
1 timer contact + 2 instantaneous contacts, 10 A
Time setting from 0.1s to more than 16 hours
High immunity to electromagnetic interference
Self-cleaning knurled contacts
Fixing/pull-out screws
Description
Series RMTZ05 are electronic time delay relays; these devices comply with the requirements of RFI technical specifications and with RFI P/N 794/671, type T1 relays. These relays are created by assembling the electromechanical units of the RDM series with a digital electronic circuit.
Relay socket adapter plate with ABB holes pattern available.
Highly reliable electronic circuit, assembled using a small number of selected components and professional class products.
Switching time selectable from 0.1s to more than 16 hours, with extreme precision over the entire scale and high resolution.
Knurled contacts to provide lower ohmic resistance thanks to the multiple electrical connection points: extended electrical life expectancy of the component, excellent performance for strongly inductive DC loads and for very low loads, such as in the case of interface signals. Optional magnetic arc blow-out for higher breaking capacity.
The excellent electrical and mechanical performance of these relays allows them to be used in the most demanding sectors, such as control and signalling functions in electricity generating stations, electrical transformer stations, rail transport, or in industries with continuous production processes.
High immunity to the electromagnetic interference typical of high voltage electricity distribution stations.
Compliance with standards
EN 61810-1, EN 61810-2, EN 61810-7 Electromechanical elementary relays
EN 61812-1 Time relays
EN 60695-2-10 Fire hazard testing
EN 50082-2, EN 61000-4 Electromagnetic compatibility
EN 60529 Degrees of protection provided by enclosures
STF IFS TE 143 A RFI approved
Choose your Relay
close